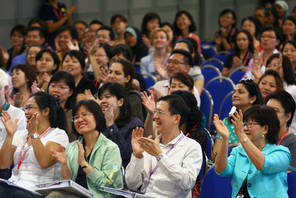 To all my lecture hosts and audience members since 1994, this year, in Sept 2016 I learned my breast cancer treated in 2011 had become metastatic and spread to my liver and spine. Metastatic cancer is not a curable situation. On 28th Feb 2017 I learned no further chemo would have any chance of working for me and I became a late stage palliative care patient.
As such, I wanted to thank you all for teaching me what a teacher and presenter I could be in over 20 years as a public speaker and lecturer in the field of autism.
This year was finally my retirement. Thank you for making it a fulfilling work life. So many adults with autism are not employable in the mainstream workforce, up to 80% remain unemployed or underemployed in spite of some excellent skills. You all allowed me to be one of the lucky ones and taught me that whatever significant levels of ongoing disabilities I continued to have that my many abilities and assets, in the right place, could at least much of the time do some wonderful 'autie magic'. I cannot thank you enough for that gift of a working life, or such purpose, passion, drive and to simply feel that as someone who had been thought so useless, you all taught me the pride of being someone so very useful.
Sincerely, Polly Samuel (aka 'Donna Williams')
Since 1994 I have given lectures and workshops around the world. I have presented to an audience of 4000 in a massive auditorium, to audiences of hundreds in conference venues and halls, to small audiences of under 50 people in Community Houses and small support groups with under 10 members. I have presented to English speaking audiences and also worked with translators for other languages including sign language.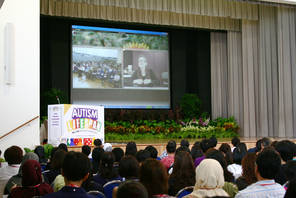 My audiences have ranged from professionals to carers and parents, to people on the autism spectrum and the general public. My presentations have ranged from specific, tailored topics, to general overviews, to troubleshooting sessions and Q-A forums, to myth busting sessions and hands on strategy focused workshops. Coming from a sociologist's perspective and drawing on experience as an autism consultant since 1996, I combined the experience of working with over a thousand families and their children with a holistic, positive focus on what people affordably and and realistically can do to empower themselves and those they care for.
I count Donna Williams' presentations at Syracuse University among the most influential in my thirty plus years on this campus. Her talks are spell-blindingly powerful. Each time I have heard Donna Williams speak, her ideas have kept me reflecting for weeks to come. She combines humor and insight into her thoroughly distinctive presentations
Douglas Biklen, Dean, School of Education, Syracuse University, NY, US
The most extraordinary and significant experience in my personal and professional life was my meeting with Donna Williams. I invited Donna Williams in Italy for a presentation several years ago and she came again other four times as keynote speaker. We filmed her presentations and we translated her books into Italian because I wanted her experience to impact on families and professionals. She taught me many things, in a way she compelled me to look at my profession in a holistic way, but, definitely, she opened our eyes, our minds and our souls. I learned the lesson of the simply be and it enriched my approach. Donna taught me to dare, the way she did.
Patrizia Cadei, Centro Studi sulla Comunicazione Facilitata, Zoagli, Italy.
As remarkable a spokeswoman, activist, artist, author, and musician Donna is, her humanity is what really sets her apart; her humor, passion, wit and insight into the world around her; her ability to see beauty in everyday things, her playfulness, her way of being in the world. Donna not only changed the way I see people with autism; she changed the way I see everyone.
Stina R, University of New Hampshire, USA.
I really enjoy Donna's talks and have done so for the last 12 years! Not only do I always come away with new insights into my son's world, (he is 16, eccentric, autistic) but her lectures also enrich my own life. Donna being so lively, human, funny and so true to herself , sparks of the same in me. Her standing up for everyone's right to their individuality, her celebration of differences, and her joy of simply being, allows me to be more of myself and to discover rich inner worlds.
Malai Sontheimer, Counsellor, UK
Donna is one of the most inspirational people I've ever met. Hearing her speak is mind blowing and her talks are never the same twice. Donna shares her knowledge with her audience in a way which makes it one to one, when in a room of hundreds. I would recommend her as a 'never to be missed' speaker.
Donna did a fabulous job. We found her to be very real, approachable and eager to teach, listen and learn. She talks from the heart. Our community still marvel about how much we learned from her. We all highly recommend her to a variety of listeners.
Sue Holmberg, Corvallis School District, Oregon, USA
Donna conveyed great courage to the audience through showing us the strong and powerful way she has managed her own life. I am sincerely grateful to her.
Dr. Yasuo Tanaka, Professor, Graduate School of Hokkaido University, Japan.
Donna's talk is interesting, organized, touching, and encouraging.
Nori Fujii, CEO, International Institute of Educational Therapy, Japan.
Donna lectures captivate, inspire, educate and inform. Her passion for her topics dominate the whole room leaving you wanting more.
Bernie Adams, Autism Events, Birmingham, UK
I was lucky enough to attend Donna's workshop here in Dunedin - what an inspirational person Donna is - she was very honest and told us her whole life story - it was really like you were inside her brain dealing with how it is for Donna to function in today's modern world - Donna opened my eyes.
Sharon Bain, Service and Support Coordinator, Otago Branch, Autism NZ, Dunedin, NZ
My husband and I had the opportunity to hear your lecture a few months ago here in Costa Mesa California. The fact you did sign during your lecture made it that much more interesting. I walked away from your lecture going "Wow" that was so informative. And "Wow" again. Bottom line you are a very powerful speaker and a great teacher.
Terri Curry, California, USA
Our workshop participants were absolutely thrilled. Donna was effervesant, entertaining and above all extremely knowledgeable. The RISE Centre highly recommends Donna Williams.
Jenny Tucknott, Coordinator, Goulburn Valley Autism Spectrum Support Group, Australia.
I'm often asked by family, friends even complete strangers "Do you think your son will grow up to be normal?" My usual response is "Define normal?" It's a real conversation stopper. I'm not sure if the world as diverse as it is, will ever find equilibrium, equality and acceptance but it's people like you Donna, who have fun trying to bring that together. Thank you for sharing your life and dreams with your audience.
Donna Williams is a dynamic, intelligent speaker. She is a truly inspirational woman.
Gwenyth Cutler, president of Nth Queensland Autism Support, Australia.
Your workshop was outstanding and everyone rated it that way. 100% of people attending said it was excellent. I sat in your workshop and couldn't help but being totally overwhelmed by your experiences and what you had to say. Thank you for making our 2010 Brainfood conference such a success.
Brainfood Team - Narre CLC
Great day. I learned heaps. Really interactive & enjoyable.
Having Donna and the parents' perspectives was humbling and inspiring.
Donna and the carer panel were definitely the highlight.
Audience members, Moreland Community Health, Victoria, Australia.
Fantastic "What an amazing lady. A reminder for me not to try to predict what my students may be up to achieving.
Amazing. Gave me a lot more insight
Very emotional insight to the information provided. Music was great therapy and was able to release my emotions.
Gave me some hope that someone with additional needs can come so far, and have remarkable abilities.
She is the best model for the family with autism problems.
Audience members, Autism Families Together, Knox, Vic, Australia.
"Confronting, amazing and informative. Interesting perspective never seen before."
"Great, wonderful, get her back here."
"Very informative, entertaining delivery presented with a great sense of humor. What an incredible lady."
Audience members, Wodonga, Australia.